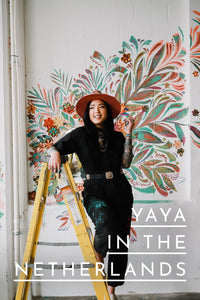 JUNE 23rd 2023
Have you ever wanted a Yaya Hat and to receive it in your hands from Yaya herself? This is your rare chance!

I'll be attending a private music event in The Netherlands at Filtro Koffie in The Hague!
Before the private event starts, we will have 30 mins to meet and chat!
*** OR Come 4-5:30 pm and have a late lunch with me! Let's hangout, chat and enjoy a meal together! 
You have two options:
Option 1) you order a hat in advance (this listing) and I bring a finished piece to you. By purchasing a hat ahead of time, it guarantees you will have a hat to take home that same day! Please be aware that you will choose which hat that is AT our meet up. The sooner you arrive the more options you will have to pick from. 
What are the perks? No shipping cost! You automatically save $75 by meeting in person. Please use the code: event75 at check out
Cancellations and refunds are not available at this time. Please do not purchase if you are not coming to the Netherlands. 
Option 2) You choose a piece from the hats that I will bring with me.
Please be mindful that I will have a VERY LIMITED selection of extra hats. These will be available on a first-come-first-serve basis. Arriving sooner than later within the 30 minute period will allow you to have first pick! All of the hats will be in different shades of neutral! This includes: gold, white, ivory, silver, black, cream, brown, tan, beige and taupe.
Your hat would normally cost $275-350 but for this event the hat is only $174.95 The event discount + no shipping cost means you save $100-175
Due to travel I will not have a lot of extras on me, so ordering ahead of time guarantees you will have a hat to take home with you.
Whether you choose option 1 or option 2 I'll be able to personalize your hat for you! This could be: initials, a date, a name or a symbol.
If you are not able to attend after purchasing your hat, you will be have a balance of $149.95 in a gift card form to use off any item on the website. (Shipping not included and discounts voided. Refunds are not available.)
Location
Filtro // Speciality Coffee and Lunch Bar
Papestraat 11, 2513 AV Den Haag, Netherlands
I can't wait to meet you!
Time to meet and pick up:
5:30pm (1730)
Time to have lunch with Yaya and pick up: 
(You will be in charge of purchasing your lunch) 
4:00pm - 5:30pm